JICMAIL (the Joint Industry Committee for Mail) are an independent body delivering industry-standard audience measurement data for advertising mail and door drops.
They provide the same metrics for mail that are available for other channels, making mail measurable.
So when we found out they were holding a myth busting webinar on charity ad mail, it was a no brainer, we had to listen in.
The webinar touched on various misconceptions like, "no one looks at mail" and "young people don't engage with mail".
Their insights might make you think twice about your plans for your future charity mail campaigns.
Read on to discover our key takeaways from the webinar.
We've also included the video recording of the full webinar below if you'd liked to give it a watch yourself.
Our charity ad mail myth busting webinar takeaways
Record levels of interaction during lockdown
Charity mail has received record levels of interaction during lockdown.
Charities came in top position for response ranking in Q2 of this year with charity mail achieving a 9% response rate.
Charity mail is seen by more people
The average piece of charity mail is seen by 1.1 people.
So if you were to send 1 million addressed mail items, 1.1 million people would actually see it. 
Charity mail is opened and read
79% of charity direct mail is opened and 72% of that mail is read.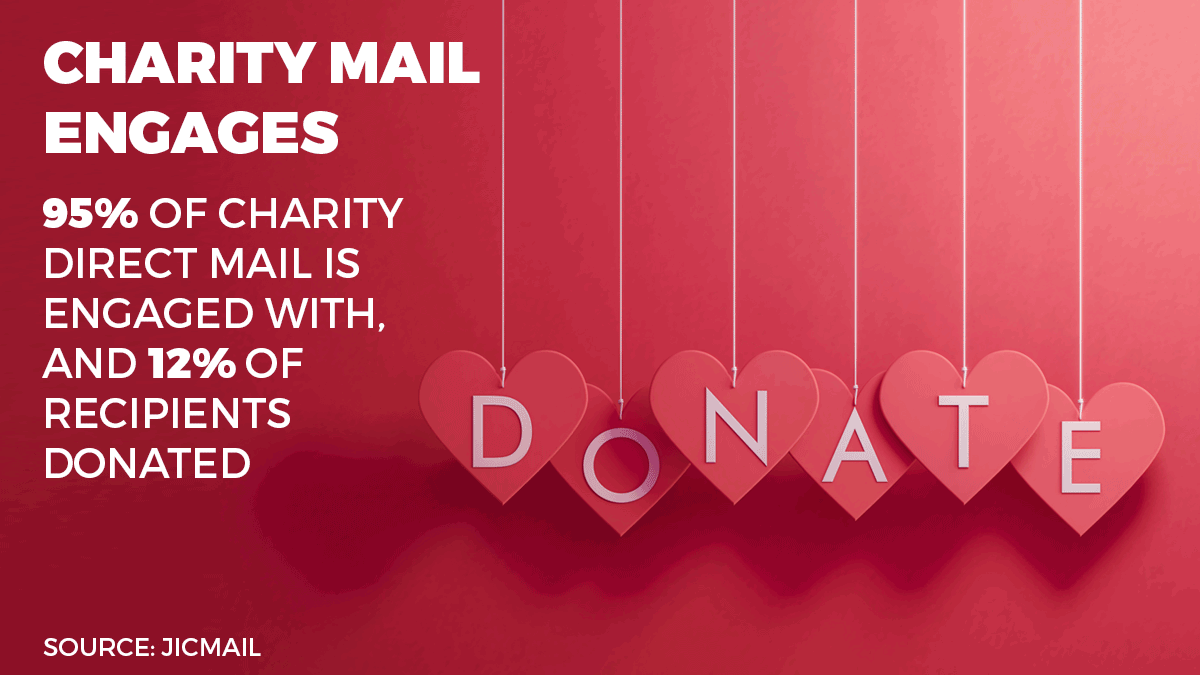 Charity mail engages
95% of Charity Direct mail is engaged with (not immediately discarded), with 12% of recipients donating.
Volunteers and donors are more engaged
Volunteers and donors engage more with charity mail – the top 20% of people who engage with mail are more likely to give both time and money frequently to charity.
Young people DO engage with charity mail
24% of recipients aged 17-34 discuss the mail they receive – they are 185% more likely to do so than the average.
Mail boosts other channels
Mail builds and supports recall of digital and traditional media charity campaigns. TV, radio, digital, website…brands become memorable when they pair these activities with mail.
A perfect partner for fundraisers
Whichever aspect of print, direct mail and digital service technology you are after, it's all here at RNB Group.
We understand how busy you are, so we can work with you on every aspect of your charity mail marketing.
We're experienced – We understand the challenges faced by charities every day, aiming to send the right message to supporters. We have the knowledge and experience to make your roles that bit easier when sharing news or raising funds by direct mail.
We deliver value – All our services are produced from a single site to give you the best opportunity to stay within budget for your supporter mailings and our aim is to save you money on design, print, fulfilment, postage and VAT.
We keep it simple – If you want to engage with supporters through print and direct mail our experts specialise in handling charity campaigns efficiently and competitively, leaving your team to concentrate on other areas of fundraising and marketing.
Get in touch if you'd like to discuss your next campaign with us on 0113 210 0055 or email hello@rnbgroup.co.uk.
We'd love to help.